Cooper Water Well Service LLC
A Family Oriented Business
Hi. For those of you who don't know me, I am Gerald Cooper a father of 5, and have been married to my beautiful bride Michelle for 25 years. We married and moved to Northeast Wisconsin in 1993, and reside at 5050 Brown Rd. Little Suamico, WI 54141
Well service , Pump service, water leak , new drilling well, abandon well , tank change and well inspections . Oconto , Marinette, shawano, brown , outagamie and kewaunee counties. Water problems, well problems or no water , Service with a smile.
My experience and expertise makes for lower service costs
I have been in the water industry for over 30 years, both drilling and installing pumps on wells from 30' to 1150' deep.
I decided customers needed to have a less expensive well and water system. So I purchased a 22W drilling rig, for those of you who are unfamiliar with that, it is a pounder (cable tool rig), which is very precise and doesn't pass up water veins. This in turn means a shallower and less expensive wells.
I also do new pump and tank installs, as well as service calls on existing systems and well inspections.
When I am finished, you will have running water at your home or project.
I personally will do the job, and you will know the job is done right. So please give us a call and let me be your "Water Guy".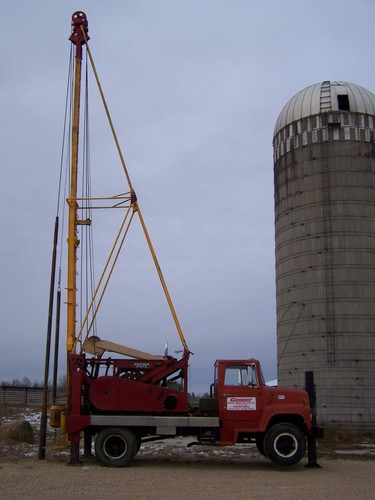 Serving Northeast Wisconsin
My family consists of my beautiful daughter Alyssa, who is now 21 years old, who played football for Bay Port High School. She is excellent at softball, playing at Stevens Point as a Junior in college. My oldest son Samuel is 18 and active in golf and loves to snowboard, and is a now a freshman in college. Nathaniel is 14 and plays football for Bay Port and enjoys the outdoors, and finally Jacob and Jesse, who are 12 years old twins and play soccer together. I wouldn't trade any of them for the world.
920-619-Well(9355)
5050 Brown Road, Little Suamico WI